How to control your office PC and work from home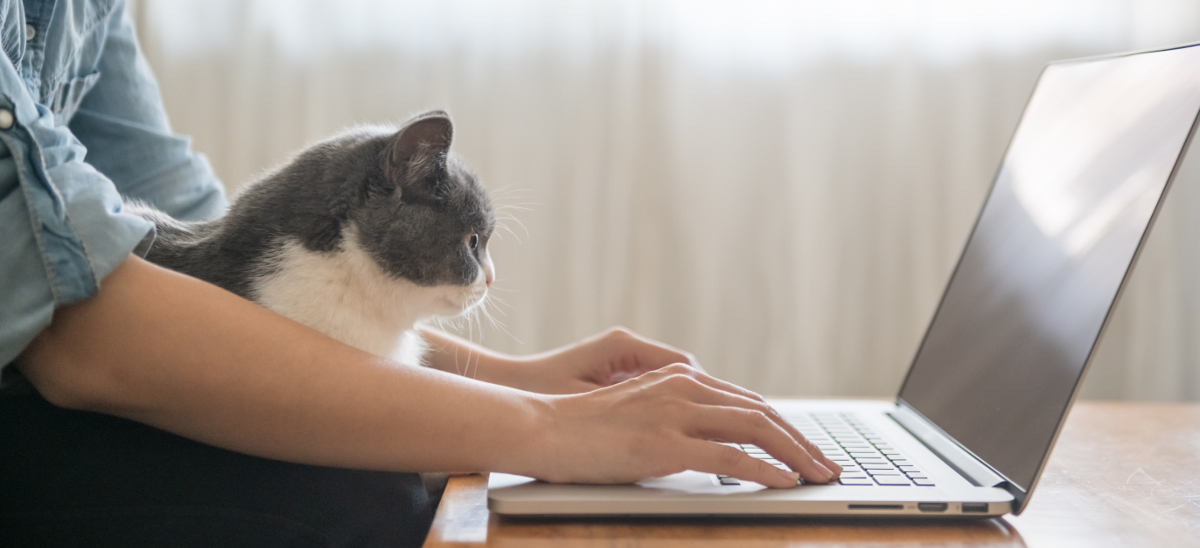 This article is sponsored by Nanosystems
Remote working is an approach that more and more companies are getting used to as a result of the global emergency. This work method often requires adjustments to the company operations, inspired by principles of flexibility and stability.
Therefore, remote connection tools are becoming more important for those companies that are dealing with the need to ensure access to office systems without physically being in the workplace.

Of all the remote desktop control software very few integrate powerful features with flexible and cost-effective licensing. If you are looking for solutions that meet these requirements and allow your business to boost performances with remote working, you should try Supremo.
Supremo is a multi-platform tool (available for Windows, macOS, Linux and mobile on Android and iOS). The Windows exe file is just 7 MB: a lightweight software, which can always be carried with you even saved in a USB memory.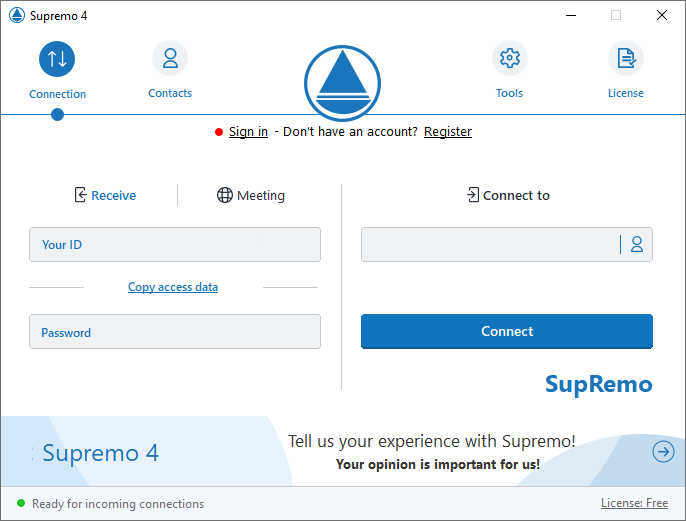 The UI is modern and intuitive and this is why the software is very user friendly. Just need to:
double-click on the exe file
enter ID and password of the device you want access to
Most remote control solutions offer a rather limited features set and complex setup on the connected devices. Supremo, on the other hand, allows you to connect remotely to the PC or server without installation or configuration (no need of manual intervention).
A key feature for remote working is unattended access. Supremo indeed can be installed as a Windows service so you don't have to be physically in front of remote device to grant access. Service installation is quick and simple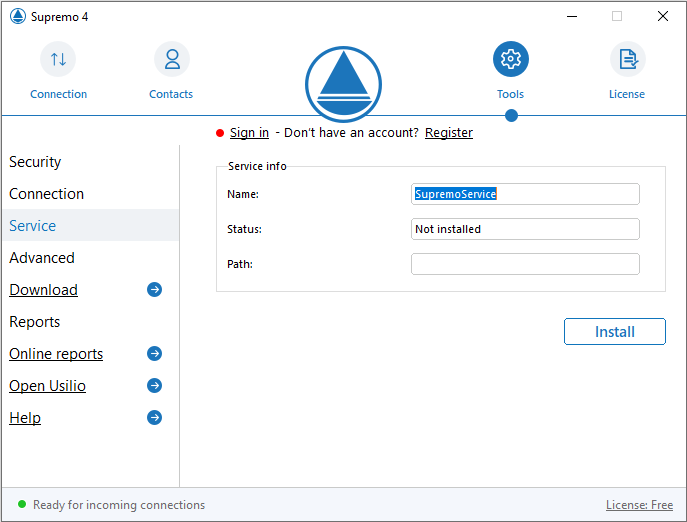 and will create a permanent system service that will be automatically loaded every time the machine is started.
As for security, this software ensures safe connections because the data flow is encrypted and for every new connection an algorithm generates a new password (this can be setup with increasing security level on the software settings as well). Furthermore, if you steadily connect to the same specific PCs or servers, you'll be able to setup the Allowed IDs feature. This ensures for these machines that only authorized IDs will have access.
---
Features for Remote Working
Supremo is the solution to control the desktop of a remote computer exactly as if you were physically sitting in front of it.
During sessions, the upper bar (shown below) integrates the tools for displaying the remote desktop in full screen, changing video preferences and also to transfer data between the connected systems with an handy File Manager.

Clicking on File manager, the file system of the local units is shown on the left, the one of the remote system on the right. From this window it is immediate to transfer files and folders, delete items, create new folders.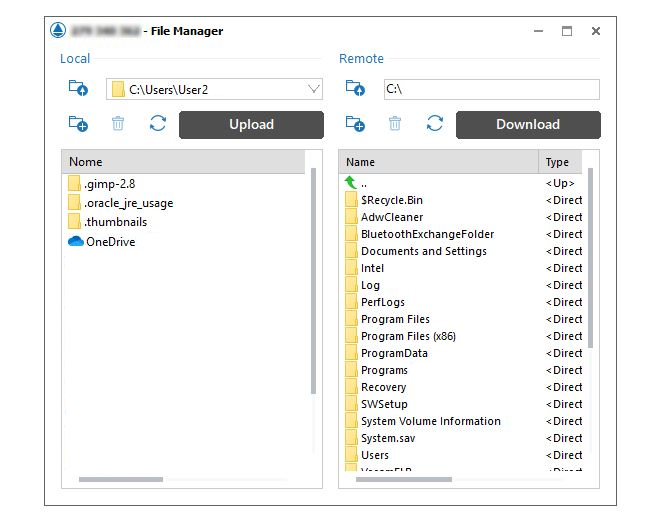 With File manager, it is possible to transfer important documents, contact lists, access credentials and other information not available on the systems used at home from the office PC. The files can be transferred from the remote PC to the local one and vice versa, also using the Drag&Drop by moving files from the window of the controlled PC to the one of the PC on which you are physically operating.
Supremo also integrates an Online Address Book as a contacts list, to easily manage the systems you might connect more often. This list can also be shared with other accounts, such as your colleagues and business partners.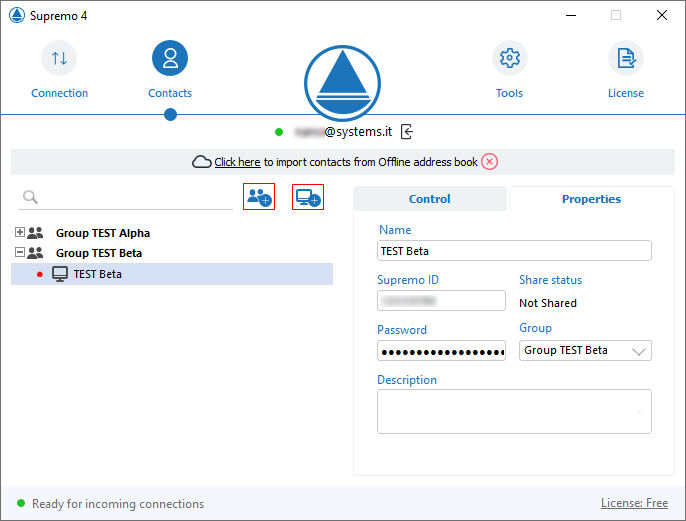 A valuable feature for companies providing remote support with different operators is Online Reports: Supremo, in fact, provides detailed reporting with comprehensive connection logs. This is useful to monitor and keep track of connections made by your team to improve company's operations, maximize ROI for your activities and have accurate billing information.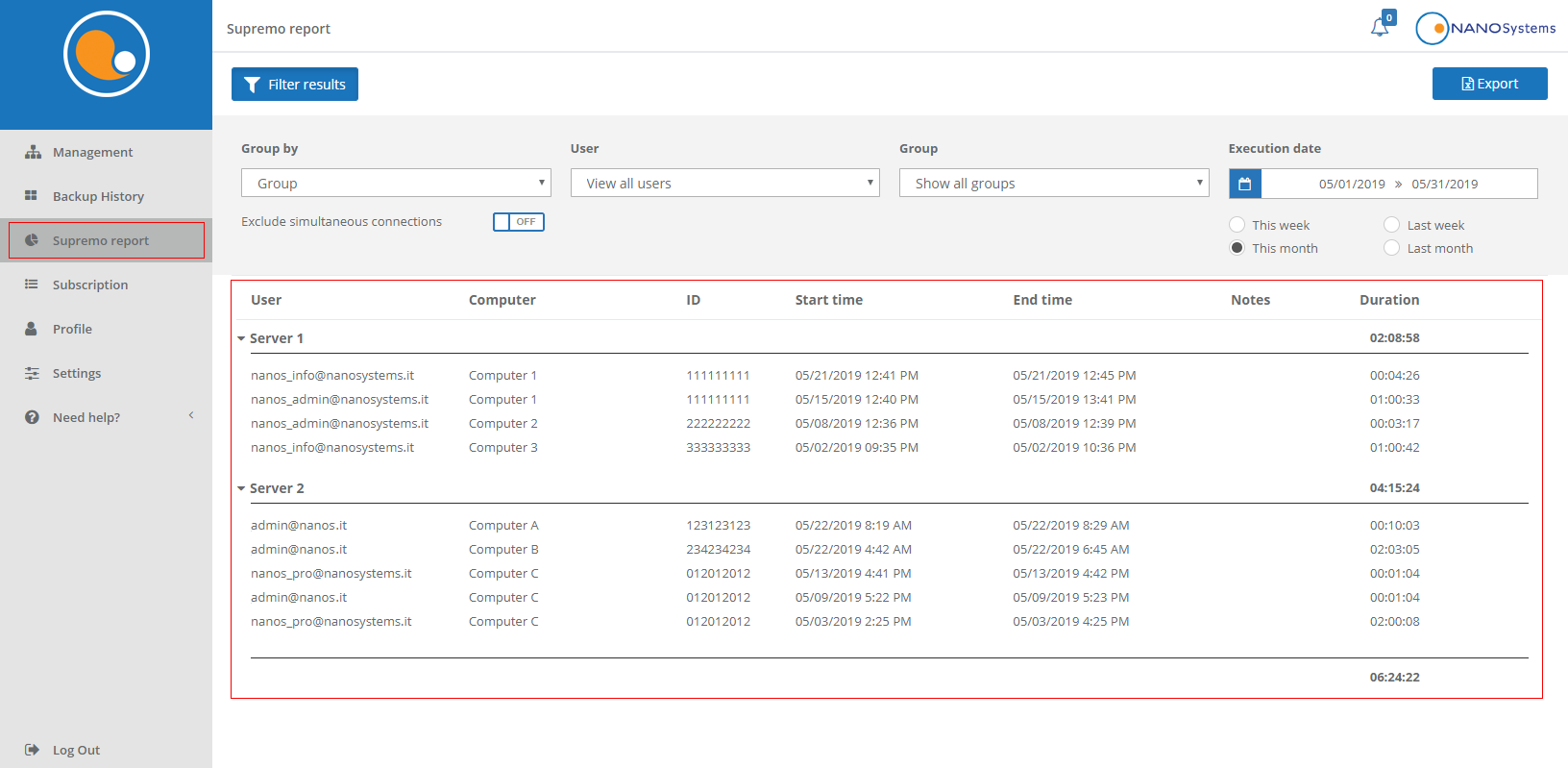 Users who activate a paid plan will be able to customize Supremo interface by adding logos and accessory information.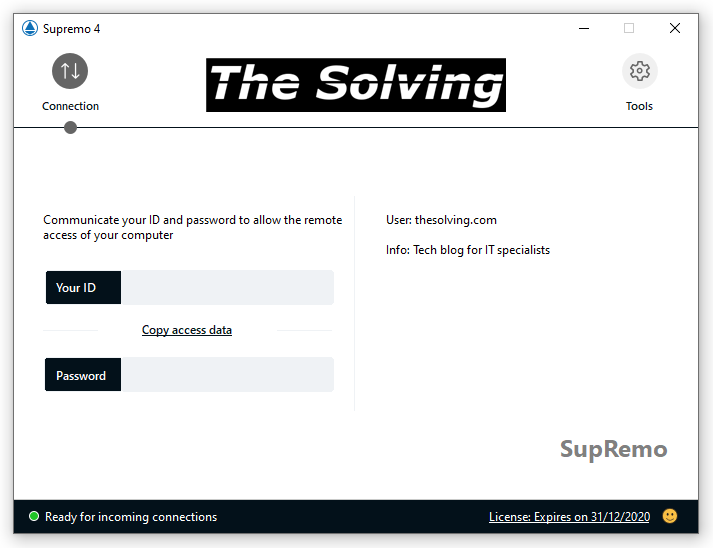 ---
The most cost-effective solution for Remote Desktop
Supremo is free for personal use but can be tried to its full potential for commercial purposes for free for 21 days.
Professionals and companies, on the other hand, can purchase very affordable and flexible plans: quarterly or annually licences can be scaled according to the required number of concurrent sessions.
Refer to official pricing page for all details.